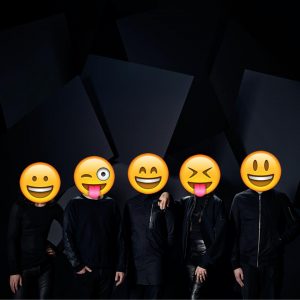 Nizozemski GOLD so predstavili audio posnetek komada "Shapeless" (spodaj)  iz prihajajocega albuma " No Image" (oktobra via Van Records).
Vocalist Milena Eva said "I wanted to share my never-ending feeling of being alone in this world, not being understood. I want people to feel the emptiness I feel. I want them to feel hope. I want them to feel loved. I want them to feel understood."
Shapeless is about the desire to evaporate. To be a small numb particle of the great big nothing. For no one to see and of no one to be. It's like a snow storm on a perfect winter day, when a thick layer of anonymity strips the world of it's form. This thick layer is expressed through the hauntingly cold guitar textures on top of the overall feeling of bleakness which is represented by the droning drive of the rhythm section. But it's Milena's enchanting delivery that makes the blackened punk drone that Shapeless is one of the most compelling moments of No Image.
GOLD was initially conceived in 2011 by guitarist Thomas Sciarone (ex-The Devil's Blood) and vocalist Milena Eva. Their mission statement was to play a distinct form of heavy rock as a monument to civilization's decline. With a vocalist named after Franz Kafka's lover, it may come as no surprise that GOLD's unique output deals with solitude, love and absence of prospect.
Their debut album Interbellum showed the promise from this unique band through its many riffs, hooks, and most notably, Milena's unique and distinct vocal delivery. Now three years after their debut, GOLD return with No Image an album that goes much beyond the promise laid down with Interbellum.
Recorded and mixed by Jeff Zeigler (Kurt Vile, The War On Drugs, Nothing) and mastered by Brad Boatright at Audiosiege (Yob, Bell Witch, Sunn 0)), Leviathan etc), No Image is the sound of a band truly finding their feet, a group of individuals who are not afraid to take responsibility for their own place on this earth, and above all, to question everything that is put in front of them.
NO IMAGE TRACK LIST:
1. Servant 2. Old Habits 3. O.D.I.R 4. Shapeless 5. Tar and Feather 6. The Controller 7. The Waves 8. And I Know Now 9. Don't 10. Taste Me
No Image will be released via Ván Records on October 24 2015 (and on November 6, via Profound Lore in North America).
GOLD is: Milena Eva – vocals Thomas Sciarone – guitar Nick Polak – guitar Tim Meijer – bass Igor Wouters – drums