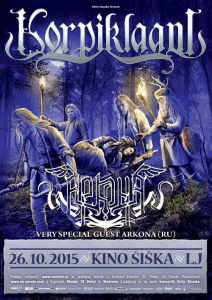 ARKONAPONEDELJEK, 26.10.2015
Korpiklaani (Fin), Arkona (Rus)
Lokacija: Kino Šiška, Trg prekomorskih brigad 3, Ljubljana
Začetek: 20:30
Cena vstopnice v predprodaji: 24 €
Cena vstopnice na dan koncerta: 28 €
Folk metal spektakl v Kinu Šiška – oktobra letos
Če vam niso dovolj prihajajoči jesenski koncerti z vseh vetrov, ki bodo ugodili vsaki metalski duši, saj nas bodo obiskali vsi živi, potem se veselite še ene prave, folk metalske zabave.
Prihajajo namreč finski Korpiklaani in ruski Arkona.
Korpiklaani poslušalca ne pustijo pri miru. Bend, ki je združil tradicijo finske "humppe", dobro pivo in metalski zvok, z vsakim albumom – kaj albumom, z vsakim tonom, spevom ali udarcem budi starodavnega duha zabave. Če bi misteriozni pani imeli distorzijo na piščali, bi zveneli kot Korpiklaani!
Ruski Arkona obujajo starodavne bitke, legende in čase, ko so boji bili častni, zgodbe navdušujoče in življenje povezano z vsem, kar je obdajalo človeka. Bend, ki ga v Sloveniji vidimo skorajda vsako leto, a ga zato vsako leto tudi pogledamo z največjim veseljem.
Pripravite se na zvrhano dozo energije, da boste preživeli ples mitov in legend, ki se bo v Kinu Šiška v Ljubljani zgodil 26. 10. 2015!
KORPIKLAANI
Bio: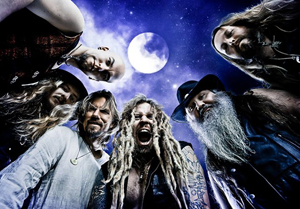 It is very early in the morning and still dark outside. Next to two enormous heaps of luggage on trolleys which can barely hold, we find a unusual group. Some of them sip coffee; others drink the last bits of luke beer and tell lame jokes. This is the band Korpiklaani and they are waiting for their plane to catch after a long and exhausting tour.
The first for your eyes to meet is Hittavainen; the enthusiast violinist of the band, who fell asleep at the table with his head resting on his arms and with a cup filled with an unknown substance next to him. Not far off stands bass player Jarkko, flipping through a catalog in search of a fine red wine to buy at the tax-free shop. The other band members are more likely to buy cigarettes and beer though. Jonne, vocalist and lead guitar player, looks pale and not too well. As usual, he is recovering from the flue that he always seems to catch when on tour. Despite his bad shape, he still pulls off hilarious stories to Matson, the drummer, who is even now drumming with his hands on the edge of the table. Guitar player Cane, who suffers from a slight hangover, laughs and turns to look at accordion player Juho, the junior of the band. Juho does not notice, he seems to be totally occupied by his own thoughts.
Passengers walking by, turn their head to watch the unusual looking group. A single fan recognizes them and runs to them for autographs and some mobile phone pictures, which are granted friendly.
Most people however, are unaware that they just passed Korpiklaani, the Finnish folk-metal band that started in 1993 under the name of Shaman, and changed their name in 2002 to Korpiklaani (Clan of the wilderness).
Their music consists of metal with a happy folky base. So does their choice of instruments, they use a mixture of electric guitars and drums as well as violin, woodwinds, jouhikko, djembé, and the typical Finnish folk instrument: the accordion. They reject synthesizers (of course), and use only genuine instruments.
To most people their music is so cheerful and lively that they cannot resist dancing, laughing and feeling happy. Maybe that is why fans call it 'beer-metal' (it certainly has the same effect as beer), but it could be also due to the many songs about this all-time favorite drink of Korpiklaani.
The first Korpiklaani albums contained merely English lyrics, but nowadays most lyrics are in Finnish. These lyrics are often written in the Kalevala-style (a special metre, from the Finnish national epic) and tell about nature, history, partying and the already mentioned beer of course!
At first Korpiklaani was just another unknown Finnish band. Nowadays they are widely appreciated for their unique and cheerful music. But it was a hard road to travel. In the beginning they were happy if they got a gig set, any gig… even for just some beer and travelling costs. They could not afford a proper place to sleep after a gig; often they had to spend the rest of the night stuffed together in a small room in a crappy and cheap hotel. They slept on the plain floor or in the bathtub. If they were lucky they could stay at some friend´s home. Their instruments were not of any quality, and if one got broken, there was no replacement. Of course they all had a job, because they had to make a living. It was hard to combine a job with a band; gig planning was really tough, and the band members always suffered a severe lack of time and money. But… these friends had a lot of fun together, and loved to play.
Some milestones came by: the first gigs abroad, the first time headliner at a small festival, a bigger festival, a big festival. Another milestone, the first time at WOA in 2006, and this summer they occupied the Party stage in Wacken again, at the 20th Wacken Anniversary! Things grow slowly in the right direction for this band with its original sound.
In 2009 one of the big wishes, the first US-tour, came true.and in 2010 another US-tour and the first South-America Tour, the Vodka Revolution Tour took place.
In many ways the hard days are over. Still it is not all sunshine. It is hard to go on stage if you are terribly ill and have high fever, if there is a family crisis, if you have a severe hangover, or if you have not slept at all because the damn hotel was closed, and you had to sit on your instrument cases all night to prevent them from being stolen.
Once the nightliner broke down in the middle of a crowded highway, hundreds of kilometers from the venue, and it was too dangerous to leave the bus for some fresh air. The reparation took so many hours, that the band members had to be rushed at the venue in a dazzling speed by taxis, to arrive in the last minute before the gig.
These poor souls have to endure a lot, sometimes they froze almost to death in nightliners with a broken heating, other times they almost suffocated from heat. Things got lost, broken and stolen. Fingers got cut by guitar strings, voices got lost by flue. The waiting is endless, the nerves go sky high and worst of all, sometimes they are even out of beer!
Busses, people and instruments might break, but the show must go on. On stage Korpiklaani has an endless energy; being on stage and playing is sheer fun for these guys. The teamwork is excellent: if someone gets in trouble, it is fluently taken over by another band member.
These Finns not only do love to play, they also love their audience; one of the greatest things a band can have is a cheering and happy crowd, loyal fans that show up whenever they can, and heartwarming feedback.
The huge support boosts the gigs, and makes fully up for all exhaustion during touring.
These Korpiklaani guys play because they really like to, they write songs because they cannot resist it, and they enter the studio because it would be waste not to do anything with the endless stream of songs. Therefore they released two albums under the name of Shaman, and as Korpiklaani already seven full length albums. There seems no end to Korpiklaani's victory march yet. Despite the amount of countries visited, many fans are still waiting for Korpiklaani to visit their country, Korpiklaani loves to play everywhere, as long as their very tight schedule allows it.
….But this story is partly in the past now, because Korpiklaani had a recent line-up change. Hittavainen left because of health issues. He was a great band member and still is a great violin player who composed among others Pellonpekko, one of the liveliest and famous songs the band plays on stage.
So, a new violin player had to be found. On a chilly morning the band of Korpiklaani left their wooden cabins with the rising sun to hunt. They traded the smoky scent of last night´s fire for the dense and dark forest, looking for game. They were just tracking down young doe, when suddenly an unearthly sound broke through the silence of the early morning. The Band members froze to the ground. It was only after a minute they heard Jonne utter: ´Darn me if that ain´t a violin!´. Juho chuckled and waved the others to follow him as they made their way towards the gentle melody. They soon arrived at a sunstrewn clearing where in front of an old shack an angelic young man sat with a violin on his shoulder playing, as they only just recognized it, 'Spirit of the forest'. The enchanting music stopped abruptly as the young man' s eyes widened with surprise when these five men approached him.
Korpiklaani greeted the young man and asked who he was and why he was playing here in the forest, where none could hear him elict these heavenly tones from such a simple instrument. Hours of talking went by, they learned his name was Teemu and that he had lived alone in the forest as long as he could remember. When he was a boy he visited the local markets every now and then to play with other boys his age, and to sneak fruit from the stalls. In one of these adventures he encountered an old grey lady, who in a creaky voice spoke to him: 'This instrument is for you, it will be your future'. Teemu never forgot the old lady and he mastered violin quicker than a bird learns to fly. The violin however never brought him the great fortune he had hoped for. His dream to become one of the great violinists of his time was forfeit and though he enjoyed playing, he did no more than playing at local pubs from time to time to have some coin to spare.
When Teemu finished speaking, the band members shared a long glance. Jonne scraped his throat: 'How would you like to come with us? We have a band but lack a violin player, we would be honored if you'd join us…'. Teemu stared in the distance, he did not know what to say. Would his dream to become famous come true? After a long moment he grinned and answered: 'Hell yeah! I'd love to!'
And so, unfortunately that is not exactly what happened. Jonne found Teemu through the internet. But all the same Korpiklaani is very happy to have him on board!
In 2011 their seventh album "Ukon Wacka" was released. KORPIKLAANI took things even further: seven-string guitars, mandoline, mandola and jouhikko are just a few of the instruments that were used on "Ukon Wacka". The album title refers to "a pagan sacrificial feast from ancient times, on which a special made beer richly flowed. As can be expected from the title, this album has an ancient and very folky feel and is totally in Finnish", frontman Jonne explains. One title doesn`t seem very Finnish though: the drinking anthem "Tequila" which is dedicated to all South American fans of the band. "Ukon Wacka" also features a guest appearance by famous Finnish singer Tuomari Nurmio! All in all a joyous affair in the traditional and beloved KORPIKLAANI vein, "Ukon Wacka" boasts ten party tracks that make you wanna raise that drinking horn up high! Also make sure to grab a limited edition copy of "Ukon Wacka" to check out the brilliant MOTÖRHEAD cover version bonus track "Iron Fist"! Believe Jonne when he says: "A big folky feast for all!"
After releasing their eight album "Manala" band went through some line-up changes again. Tuomas Rounakari is playing the fiddle nowadays and Sami Perttula shows you how to play accordion. Be sure to check them out live!
ARKONA
Bio:

The beginnings of ARKONA date back to 2002, when members of local pagan community "Vyatichi", Masha "Scream" Arhipova and Alexander "Warlock" Korolyov, decided to form a band that mirrored their individual philosophy and musical tastes. The band, at the time still known as Hyperborea, comprised Masha "Scream" Arhipova (vocals), Eugene Knyazev (guitar), Eugene Borzov (bass), Ilya Bogatyryov (guitar), Alexander "Warlock" Korolyov (drums), and Olga Loginova (keyboard), but it wasn't until February 2002 that ARKONA surfaced from the depths of Russia's underground scene.
ARKONA soon decided to record several of their pagan/folk songs for their first demo. The recording took place at CDM-Records Studio in December 2002. The demo included 3 tracks – "Kolyada", "Solntsevorot" (Solstice)" & "Rus'" (Russia). These tracks were later included as a bonus on the live album "Zhizn' vo slavu" (Live for the Great) released in 2006.
ARKONA began performing live in early 2003. Many concert-goers experienced the band for the first time at the Yazycheskaya Rus" Festival. By the summer of 2003, ARKONA was ready to record their debut, but disinterest in the band by some of its members saw the band disappear from the scene as quickly as it had arrived. Yet Masha's perseverance would not subside. Continuing on her own, and with the help of the members of Nargathrond, she proceeded to compose new material. Her fellow musicians readied their instruments, read through the partitions, and without ever looking back, recorded their debut album "Vozrozhdenie" (Revival) in March 2004.
"Vozrozhdenie" (Revival) quickly became one of the most successful Slavic pagan metal albums of all time. As soon as the studio work was completed, Masha dedicated herself to the creation of new songs and by the end of summer 2004, the material for the second album "Lepta" (The Contribution) was completed. With the support of the same line-up, the band finished the recordings in autumn. "Lepta" was released in December 2004 and presented the listener with a darker and gloomier style. ARKONA was also supported by poet and vocalist Les'yar (Nevid', ex-Butterfly Temple), who not only performed, but also wrote the lyrics for "Zarnitsy Nashei.Svobody".
The album's release placed ARKONA back on the scene as a contending force. With a complete line-up, ARKONA returned to the stages in the beginning of 2005.
An ever-espousing fountain of creativity, Masha continued writing new material and by the summer of 2005, ARKONA was recording their next album. "Vo Slavu Velikim" (For the Glory of Great) proved to be the most complicated and varied album thus far, as the band withdrew from the use of synthesized sounds, replacing them with authentic folk instruments. As such, the list of guest musicians grew considerably including the renowned folk musician Vladimir Cherepovskiy (Mervent, ex- Voinstvo Sidov, Veter Vody, Trio Mario), as well as members of Svarga and Alkonost.
Though the arrangements for each song at times exceeded 100 recorded tracks, ARKONA was able to finally piece together the album and "Vo Slavu Velikim!" (For the Glory of Great) was finally released in September 2005. During the touring that followed in support of the album's release, ARKONA recorded their performance for the purpose of releasing a DVD and the live album "Zhizn' vo Slavu". Fueled by their outstanding achievements, ARKONA opted not to rest on its laurels and made sure to return with a new album as soon as possible. Fans heard a preview of "Ot Serdca K Nebu" (From the Heart to the Sky) at the 2008 Ragnarok Festival. In addition, the band embarked on a 30-day tour throughout Europe with Brutal Assault being just one of the highlights.
Back at home, ARKONA decided not to take a break, but to immediately begin working on their fifth album. In order to top their previous effort, the band aimed to create something unique. While working on "Goi, Rode, Goi!", the band also planned their second DVD. "Noch Velesova" was released via Napalm Records in May 2009. ARKONA also performed at the German festival Winternoise, taking a well-deserved break from the arduous recording process.
Upon their return, ARKONA continued to work on the new album, completing the recordings in June 2009. It was quite an enterprise, as over 40 musicians were involved in the making of "Goi, Rode, Goi!". The band described the process as the most labor-intensive and time-consuming work in its history. ARKONA made use of a full-fledged chorus and string quintet for the first time in their career. The heart of the album is undoubtedly the 15-minute saga 'Na Moey Zemle' that relates the adventures of a Slav in European countries. This epic features the voices of members of Manegarm, Menhir, and Heidevolk, among others. Vladimir Cherepovsky and Vladimir "Volk!, who has recently become a full-time member of ARKONA, are responsible for the traditional instruments on the album. The artwork was again the work of the legendary Kris Verwimp. He delivered a series of conceptual illustrations for each song on the album.
The result was worth the hard work, as "Goi, Rode, Goi!" proved to be the next logical step in the band's journey. Fans would experience the live power of the new material at numerous live performances. ARKONA also produced video clips to the title track, the anthem "Yarilo", as well as the melancholic "Liki Bessmertnykh Bogov". The band played numerous shows in support of the new album and also released an EP in the summer of 2011 to ease the fans' anticipatory wait for the upcoming album.
The members of Arkona have already managed to make a name for themselves within the pagan metal scene that extends way beyond the borders of their native Russia. Their new album "Slovo" acknowledges their well-earned reputation with outstanding tracks. The band revolving around lead warrior Masha Scream has managed to outshine all past efforts. "Slovo" bundles Arkona's strengths and catapults the band to new musical heights. The foundation of blast beats, double bass attacks, and heavy riffs remain, yet it is the attention to detail that rounds off Arkona's multi-faceted sound. Folk melodies, complex vocal lines and choruses, clean vocals and growls, orchestral passages, and authentic instruments (violins, flutes, etc.) serve to embellish "Slovo". The diversified end result features epic ballads and heavy folk-oriented tracks bound for certain glory at upcoming live performances. Masha's Russian lyrics add a hardened, yet melancholic touch to this latest work. Once again, Arkona has chosen master illustrator Kris Verwimp (Vintersorg, Månegarm, Thyrfing, etc.) to design the album's artwork. "Slovo" is an album full of highlights destined for yet another impressive victory on the pagan metal battlefield.
Right after the release of the album "Slovo", Arkona was participated in the Heidenfest tour 2011 across 11 countries in Europe. After that, the band discovered the North American continent : Arkona played 36 concerts in the U.S., Canada and Mexico. February 11th, 2012, in Moscow, the band was celebrated 10th anniversary with the biggest show history: a concert with the academic choir and string quartet . This performance was recorded and published a year later on a CD titled "Decade of Glory". Arkona was played a long concert tour, dedicated to the 10th anniversary of the band , in Russia , Europe, North America (USA , Canada, Mexico ) and South America (Argentina and Brazil) , and also participated in many festivals , including 70,000 Tons of Metal. Anniversary tour included more than 100 performances.
After returning from PaganFest tour in early 2013, Arkona started to prepare 7th studio album called "YAV". Until June, musicians were in studio, working on the album. Recording was appointed for the end of month, but after performance at the festival "MetalFest" in Poland 22.06 Vlad «Artist» decided to leave the band. The group asked him to record the part of the material , which he learned before his decision and play with Arkona all upcoming concerts. The other songs were recorded by famous Russian musician Andrey Ishchenko. Later he became a permanent member of Arkona.
"YAV" got the highest category of complexity of all recorded Arkona albums. Masha decided to not use choir and strings, and concentrate on her own vocal line and guitar parts. The album got a completely conceptual character and, unlike previous works, all the songs sounds in a dark and epic vein.
In October 2013 Arkona took a break with the work on the album to go to the biggest tour in band's history: first headlining tour in North America, headlining tour in South America, and finished with 11 European countries, touring as a special guest participant on tour with Therion.