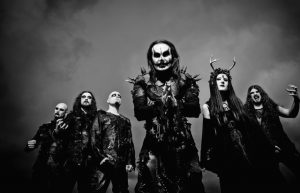 Cradle Of Filth predstavljajo videospot za skladbo "Blackest Magick In Practice"  z njihovega zadnjega opusa groze in romantike z naslovom "Hammer Of The Witches".
The clip was directed by Sam Scott-Hunter and the song is taken from the groups latest tome of horror and romance, »Hammer of the Witches«.
Comments the director:
"There's dark madness in this video. 'Blackest Magick In Practice' is a deeply tragic tale of lost love. It's the grief stricken insanity of trying to bring back that loved one from the dead; desperately trying to hold onto that person who's gone, even if that leads down a dark and gruesome path. I don't want to give it all away, but I will say that the hardest part of the production was getting hold of a human ear.
I wanted to convey the power of the band too, in amongst the romance, madness and magick. Behind the imagery of the lyrics is a great and powerful metal band of amazing musicians, and I hope people can feel the intensity of the band when they watch this. It is intense viewing. There should be a bit of madness in the video, because there's madness in this song."