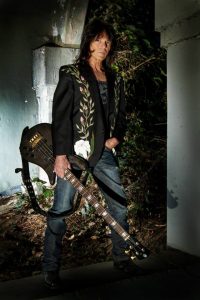 DEVIL CITY ANGELS has no shortage of professionals in its ranks – namely Tracii Guns of L.A. GUNS on guitar, drummer, Rikki Rocket of POISON, Rudy Sarzo of QUIET RIOT and OZZY OSBOURNE on bass, and singer Brandon Gibbs of THE GIBBS BROTHERS and CHEAP THRILL. With upwards of 100 million units sold and countless packed arena and stadium gigs worldwide between them, the members of DEVIL CITY ANGELS have banded together to do what they love – simply rock out and have a great time while providing music lovers with a fun and engaging sound that everyone can enjoy.
In 2014, longtime buddies Tracii and Rikki jammed at a Keith Moon and Jon Entwistle tribute show together with DEVIL CITY ANGELS' first bassist Eric Brittingham of CINDERELLA. Rocking on stage felt so good that they collectively agreed, "Let's start a band." So, Rikki rang Brandon with whom he'd built a relationship after producing music for him ten years Prior.
The four musicians holed up in Southern California's Patagonia Studios within a month of that impromptu first gig. The five-acre ranch allowed for a level of comfortable isolation, encouraging complete focus. As a result, they quickly conjured up a sound of their own. The first track, "All My People", speaks to that approach with a rollicking and raucous bluesy riff, boisterous drumming, and powerhouse vocals. The first single, "Boneyard", merges a smooth and swaggering riff with soulful vocals. Meanwhile, "No Angels" begins with a lumbering groove that drips into a heavenly and hypnotic hook.
After recording the album with Brittingham, the bassist amicably split with the guys. Rudy Sarzo stepped into the fold in the spring of 2015 and the band couldn't be stronger.